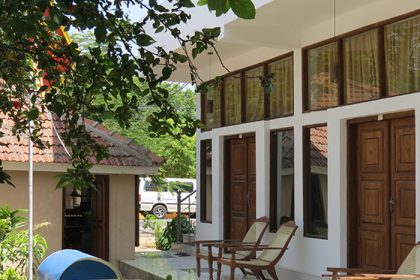 [accordion_toggle title="Hotel Description"]
Only a few minutes walk away from Arugam Bay Point, which is among the top 10 surf points in the world.
Six types of rooms and cabanas.
Currently Arugambay Surf Resort provides 15 guestrooms, which offer a range of facilities to suit all budgets.
Arugam Bay Surf Resort offers traditional beachside cabanas with thatched roofs and balconies, clean and comfortable budget rooms, as well as more spacious rooms on the upper floor with balconies and double fans. We also offer deluxe rooms with A/C and hot water. We have four family bungalows available, which can be rented to groups or families who wish to stay together; maximum occupancy is four or five people. Two of the family views have direct views of the sea.
All guestrooms are equipped with fans, mosquito nets and private bathrooms. Sheets, pillowcases, soap and towels are provided for guests to ensure they have a comfortable and enjoyable stay at the Surf Resort.
[/accordion_toggle] [accordion_toggle title="Gallery – Click here to see the photos"]